1ShoppingCart™ Known as the "World Smartest Shopping Cart," Marketers Choice cart does it all. On-line ordering, handles credit cards, tracks your clients, products, and can run your own affiliate sales force. Automate your Internet sales and marketing functions. 1 Shopping Cart is the same cart used by well-known Internet marketers under their own brand name.
If you are a Click Bank affiliate take a look at this free ebook. Totally free, you don't even have to give your e-mail address. Although it's titled ClickBank for Newbies there's actually a built-in opportunity for ClickBank veterans.
Oh, one more thing. It's written by THE ClickBank Guru, Harvey Segal, owner of the ClickBank Guide site, the ClickBank Success forum and author of best selling ebooks about ClickBank.

ClickBank Affiliate Help
This may be the best ebay tutorial I have ever gone through. I have attended ebay University and many of the "traveling" ebay seminars. I have given ebay seminars and answered a room full of questions.

This ebay tutorial provided training that has kept my ebay rating at 100%! It includes a 100% guarantee that you will be successful or you get $200.
Take a look at the course!
How to Process Credit Cards Online - Learn everything about accepting credit cards online and in person - and how to save thousands of dollars per year in the process.

Accept Visa, MasterCard and PayPal on your site. No large fees, bank programs, or expensive software needed. Small set-up fee + a few percent of each sale. Well worth the fee to gain the sale! Safe and secure system.
Our photo & imaging software choice. Drop shadows, cropping, or building new images, PhotoImpact by Ulead does it all. Comes with a GIF Animation tool that is rated among the best it the industry.


CafePress can create your on-line store selling everything from t-shirts to books and software downloads.
Lincoln Beach Software is a terrific company for Webmaster short cuts. Just Tabs, Just Navigation, Just Buttons and Just Screenshots create images that your clients will love! Just Buttons created the navigation bar on this site.
Word Tracker When your potential customers use search engines, keywords are the words and phrases they type into the search box while looking for products and services like yours. The best keywords are those words and phrases commonly typed in by your potential customers, but which aren't used much on your competitors websites. In other words, if you optimize your pages for keywords your potential customers use a lot, but your competitors haven't thought of, you win.

The Template Store will help your imagination built your site. For a few $$ you can download templates for FrontPage, GoLive or Dreamweaver. Swish (Flash) animation is available. Cut you web development time dramatically. Once you have downloaded a template, you may revise/update it for you own site. Change the graphics and text so your site does not have look like any other site!
Create corporate logos. The Logo Creator is easy to use. However, it still takes a little design creativity on your part.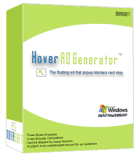 Hover ads that pop-up blockers do not stop. The CoverAd Generator has multiple easy to use options include a cookie control that only allows your hover ad to appear at specified times.